LOCATIONS
MITTELDEUTSCHLAND

LEIPZIG
10. März 2020

"Krisenkommunikation für Events: Wahre Geschichten zur Vorbereitung und für den Ernstfall"
Fakenews, Shitstorms und Facebook: Was können wir aus der Welt der Krisenkommunikation und des Krisenmanagements lernen?
10.03.2020 | 11:45 – 12:15Uhr | LOCATIONS-FORUM
LOCATIONS
REGION

MÜNCHEN

, DEUTSCHLAND
04. Dezember 2019

"Krisenkommunikation für Events: Wahre Geschichten zur Vorbereitung und für den Ernstfall"
Fakenews, Shitstorms und Facebook: Was können wir aus der Welt der Krisenkommunikation und des Krisenmanagements lernen?
04.12.2019 | 12:00 – 12:30 Uhr | LOCATIONS-FORUM
ibtm WORLD
BARCELONA, SPAIN
19–21 November 2019

I'm very excited to be asked again to speak at #IBTMWORLD! My session is part of the Marketing and Digital track of the Knowledge Program.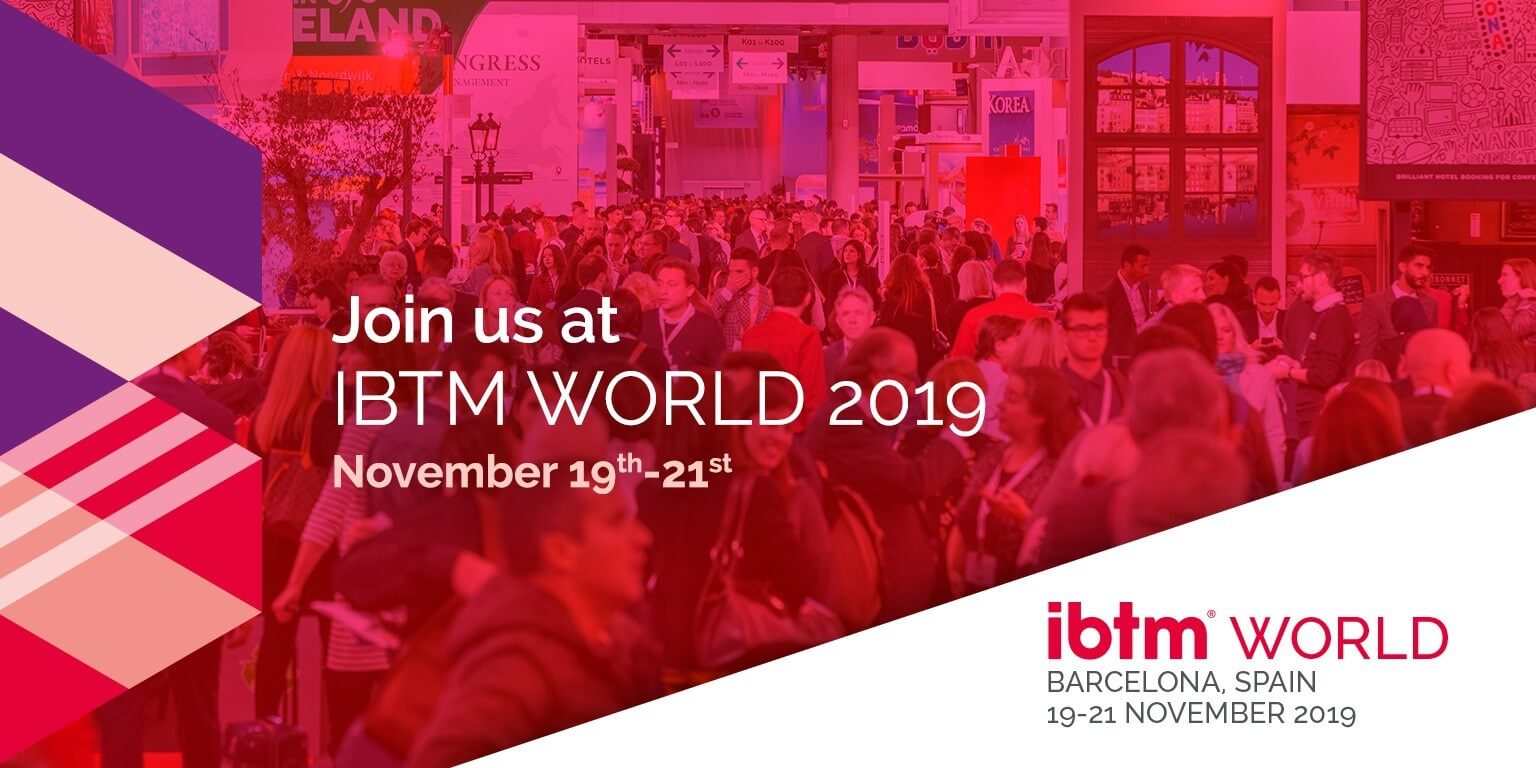 I am talking about how effective crisis management communication can save your event or conference. How can your marketing team deal with crisis communications if you do not have a PR team? And is your PR team ready for crisis communication?
I've been working in the MICE-Industry for over 18 years, and can't wait to share my experience and real-life stories. MICE Crisis Management has a global impact in our Industry.
https://bit.ly/2Owu5bo
I will be onsite on Tuesday and Wednesday at IBTM World and happy to meet. I am looking forward to meet friends, familiar faces in my session and new people. See you in BCN!!
#eventmanagement #events #eventprofs
#micecrisismanagement
Date: November 20th, 16:45–17:45
Topic- Fake News, False Alarms and Facebook: Real stories from the world of Crisis Communications and Management, and what we can learn from them
Location – Knowledge Theatre 2
Read more
Watch Video
LOCATIONS
RHEIN-MAIN,

Mainz,

DEUTSCHLAND
05. November 2019

"Krisenkommunikation für Events: Wahre Geschichten zur Vorbereitung und für den Ernstfall"
Fakenews, Shitstorms und Facebook: Was können wir aus der Welt der Krisenkommunikation und des Krisenmanagements lernen?
05.11.2019 | 11:15 – 11:45 Uhr | LOCATIONS-FORUM
ibtm
CHINA
BEIJING, CHINA
28–29 August 2019

Steff Berger is delighted to be travelling to Beijing for the first time this August 28–29th for IBTM China at the China National Convention Center, where she will deliver two presentations: on anti-terrorism strategies for conferences, and communication strategies in a crisis.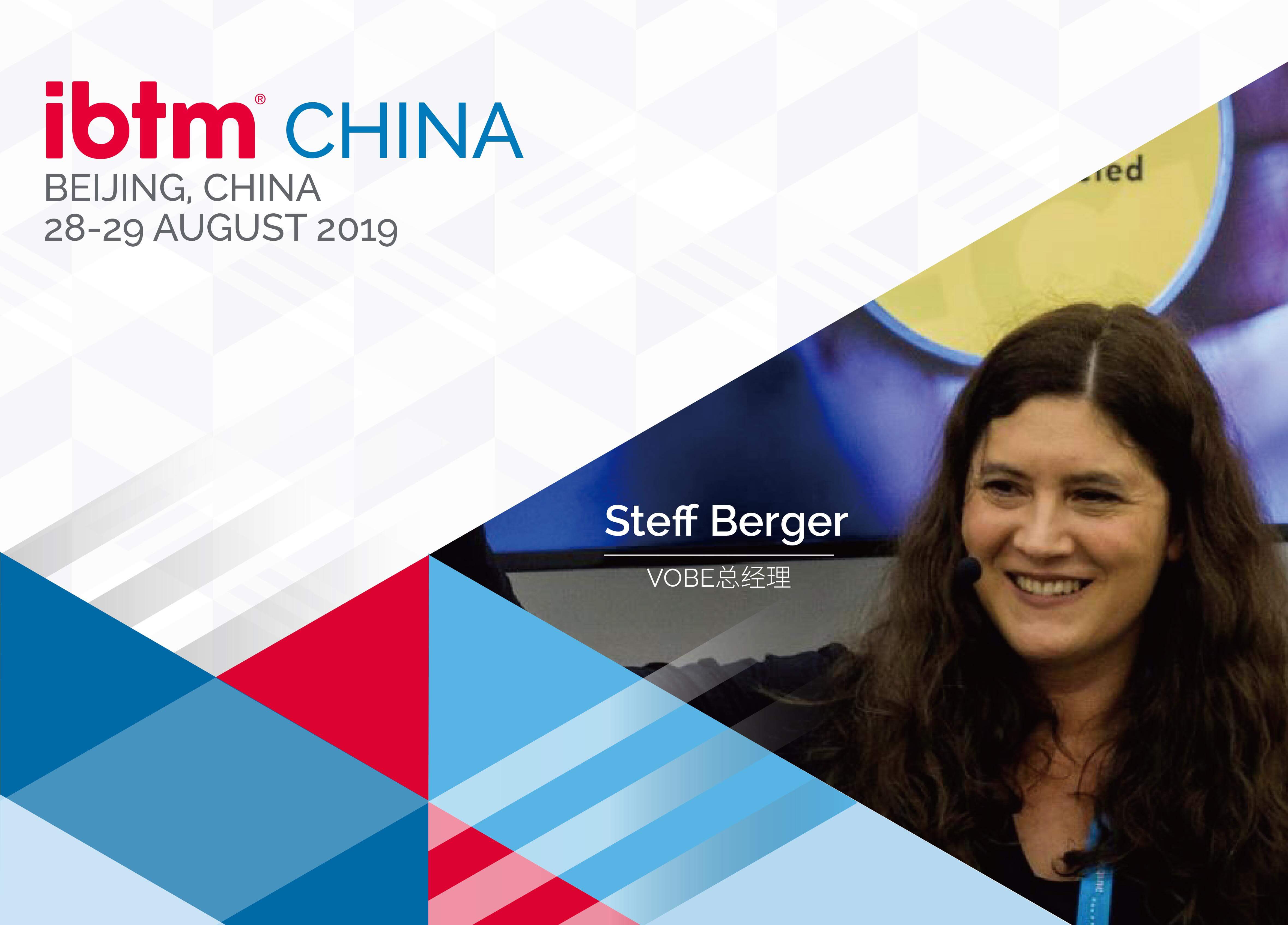 Steff Berger's presentations include:
● What to consider at every stage of a potential attack – from police response times to safe zones, exit management and more.
● How to implement a risk analysis based on potential terrorist behaviour, and integrate useful strategies into your crisis management planning.
● The importance of involving city authorities, venue managers, event organisers and local police in all plans.
● Preparing your information and emergency communication strategies – considering internal, external and social media messages.
● Perhaps most importantly: how to be open but not afraid. It's natural to want to avoid the topic of crisis management, but more productive to engage everyone involved.
Date: Day 1 -August 28th, 10:15–11:00
Topic- Crisis Management: How Effective Communications Will Save Your Event
Location – China National Convention Center – Conference Room 2
Date: Day 2 -August 29th, 13:00–13:45
Topic- Expect the Unexpected –Anti-Terror Strategies for the MICE Industry
Location- China National Convention Center – Conference Room 1
imex 2019


FRANKFURT, GERMANY
21–23 MAY 2019
How effective communication in crisis management can rescue your event
Type: Education
Date: Tuesday May, 21st, 2019
Time: 14:30–15:00
Venue / Room: Seminar Room 3, Inspiration Hub, Hall 9.0
Association/Organization: VOBE-Inspires-People
Speaker(s): Steff Berger
Track: Marketing and Social Media
Industry Level: Industry Professional – all levels
Language: English
CMP/CEU: CMP-IS Domain G: Meeting or Event Design, 0.50 CE hour
Discover how crisis communication in the meetings industry can work effectively. Social media can spread misinformation, panic or ridicule in minutes – how can you protect your event and prevent a crisis?
Learning Outcome:
1 Learn how effective communications in a crisis can positively influence behaviour, outcomes and public perceptions
2 Find out how internal, external and social media communication is the key to crisis management
3 Understand the speed you need to react on social media and the kind of messages you should send out
Meet the expert on business skills
Type: Education
Date: Wednesday May, 22nd, 2019
Time: 13:30–15:30
Venue / Room: Meet the Expert Clinic, Inspiration Hub, Hall 9.0
Association/Organization: VOBE-Inspires-People
Speaker(s): Steff Berger
Track: Business Skills
Industry Level: Industry Professional – all levels
Language: English
An opportunity for a one to one with Steff Berger who is an expert in crisis management and logistics for conferences and events, managing stakeholder relationships, maintaining successful supplier relationships. Book a 20-minute appointment at the Inspiration Hub info desk.
Wie effektive Kommunikation im Krisenmanagement Ihre Veranstaltung retten kann
Type: Education
Date: Thursday May, 23rd, 2019
Time: 10:30–11:00
Venue / Room: Seminar Room 3, Inspiration Hub, Hall 9.0
Association/Organization: VOBE-Inspires-People
Speaker(s): Steff Berger
Track: Marketing and Social Media
Industry Level:
Industry Professional – all levels
Language: German
Erfahren Sie, wie Krisenkommunikation in der heutigen Meeting- und Eventbranche effektiv funktionieren kann. Über die sozialen Medien können sich binnen weniger Minuten Desinformation, Panik oder Spott verbreiten – wie können Sie Ihre Veranstaltung davor schützen und eine Krise verhindern?
Learning Outcome:
1 Wie effektive Kommunikation in einer Krise das Verhalten von Teilnehmenden, die Resultate und die öffentliche Wahrnehmung Ihres Events positiv beeinflussen kann
2 Interne und externe Kommunikation sowie die soziale Medien (von Mitarbeitern, Teilnehmenden, Stakeholdern und Medien) als Schlüssel zum Krisenmanagement
3 Ihre Reaktionszeit in den sozialen Medien und die passende Botschaft, um eine Krisensituation in den Griff zu bekommen.
ibtm WORLD
BARCELONA, SPAIN
27–29 NOVEMBER 2018

Practical Anti-Terror Strategies for Conferences and Events
/ 27-11-2018, 14:15–15:15
/ Knowledge Theatre 2
/ Language: English
Potential terror threats in today's event world are more dynamic –and less predictable –than ever before. We like to inspire action and provide practical, engaging tips to help organizations become more aware of possible terrorism within the MICE industry. By understanding how terrorists think and prepare attacks, we can become more vigilant. Although we can't prevent terrorism, we can help raise awareness for teams, suppliers and venue staff. We highly recommend anti-terror strategic planning as part of the crisis management strategy for all large-scale conferences or events. Yes, we can make a difference!
This session provides an overview:
What can we learn from past terror threats?
Awareness and behaviour tips
How to include anti-terrorism strategies in crisis management planning
Contributors
Steff Berger has over 18 years experience in the MICE Industry. In her current role as conference consultant, crisis manager and event manager, her focus is always on people. Helping people find viable solutions is a challenge she gladly accepts.
GCB Learning Lab
FRANKFURT, GERMANY
27 JULY 2018

Communication is one of the most important tools during a crisis
One of the secrets behind successful crisis management is the preparation of up-to-date, efficient lines of communication between your team members, suppliers, participants and stakeholders.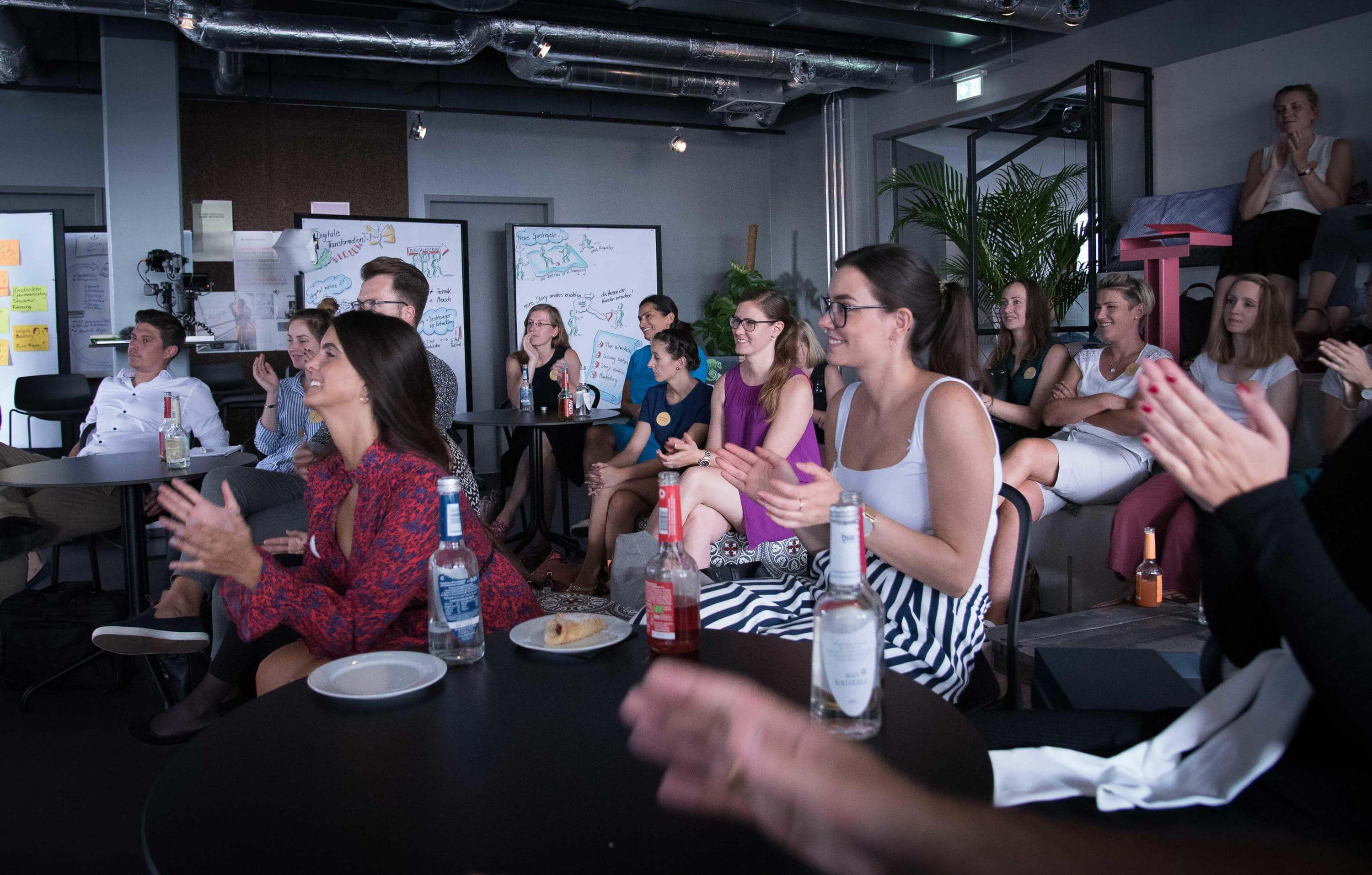 Pre-defining your crisis response strategy and creating effective communication channels can make all the difference in a successful crisis management concept.
imex 2018
FRANKFURT, GERMANY
15–17 MAY 2018

Practical anti-terrorism awareness tips
Steff Berger's presentation on practical anti-terrorism awareness tips, at the Inspiration Hub yesterday, struck a chord right from the start.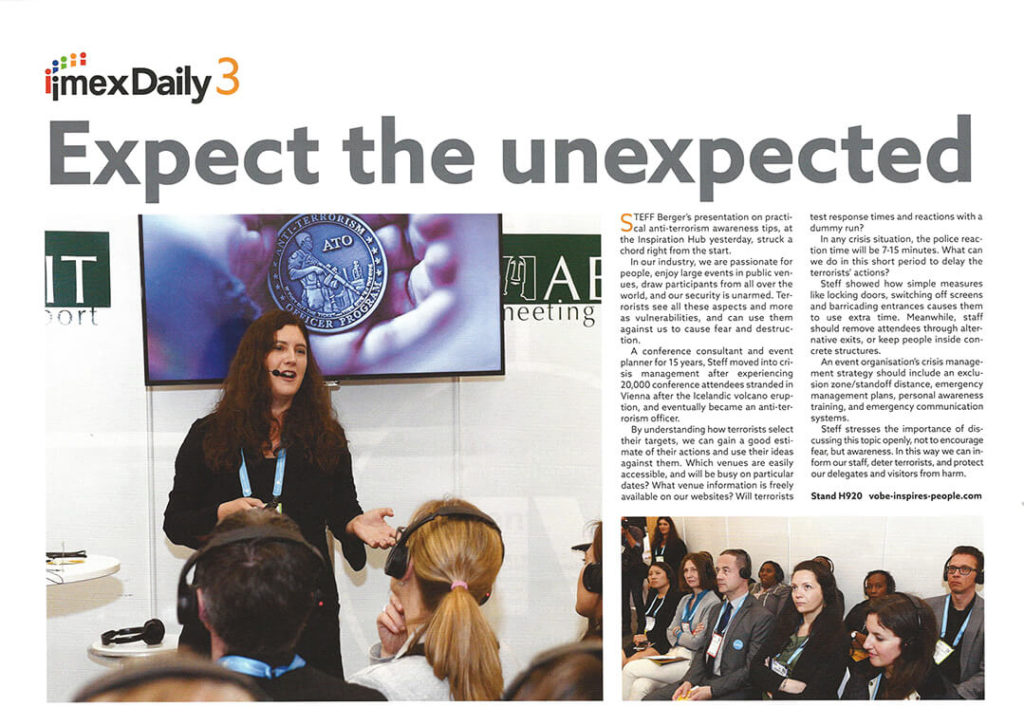 ln our industry, we are passionate for people, enjoy large events in public venues, draw participants from all over the world, and our security is unarmed. Terrorists see all these aspects and more as vulnerabilities, and can use them against us to cause fear and destruction.
A conference consultant and event planner for 15 years, Steff moved into crisis management after experiencing 20,000 conference attendees stranded in Vienna after the lcelandic volcano eruption, and eventually became an anti-terrorism officer.
By understanding how terrorists select their targets, we can gain a good estimate of their actions and use their Ideas against them. Which venues are easily accessible, and will be busy on particular dates? What venue information is freely available on our websites? Will terrorists test response times and reactions with a dummy run?
In any crisis situation, the police reaction time will be 7-15 minutes. What can we do in this short period to delay the terrorists' actions?
Steff showed how simple measures like locking doors, switching off screens and barricading entrances causes them to use extra time. Meanwhile, stuff should remove attendees through alternatives exits, or keep people inside concete structures.
An event organisation's crisis management strategy should include an exclusion zone/standoff distance, emergency management plans, personal awareness training, and emergency communication systems.
Steff stresses the importance of discussion this topic openly,not to encourage fear, but awareness. In this way we can in form our staff, deter terrorists, and protect our delegates and visitors from harm.
Stand H9 20      vobe-inspires-people.com
There are currently no events.